Designing the pull-up banners
For this year's conferences, Protecht needed two new roll-up banner designs, with one focusing on their enterprise risk management system and the other focusing on their general risk services.
To meet the brief, both designs needed to meet the following requirements:
be aligned with Protecht branding
be visually interesting but look clean and uncluttered
include the Protecht logo, contact details and LinkedIn page
The Sales and Marketing team at Protecht provided the copy that needed to appear on the banner but requested that I come up with ideas for imagery to keep the design interesting.
To highlight the system in the first banner, I chose to display the system dashboard within an image with clean lines and modern devices. I also created some simple icons to illustrate each feature listed in the banner.
Since the second banner didn't have a lot of text, I selected images to represent the three main company services.
Although the banners needed to look distinct from each other, they still needed to be cohesive since they were going to appear on either side of the exhibition booth. So to keep them both on-theme, I used the same colours and typography based on the brand guidelines. I also carried over some elements across both designs, such as the use of geometric shapes.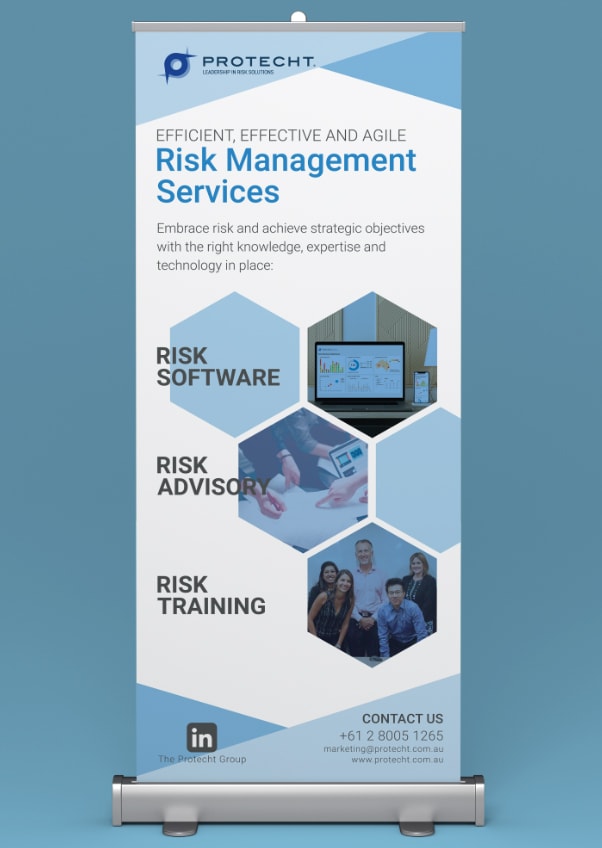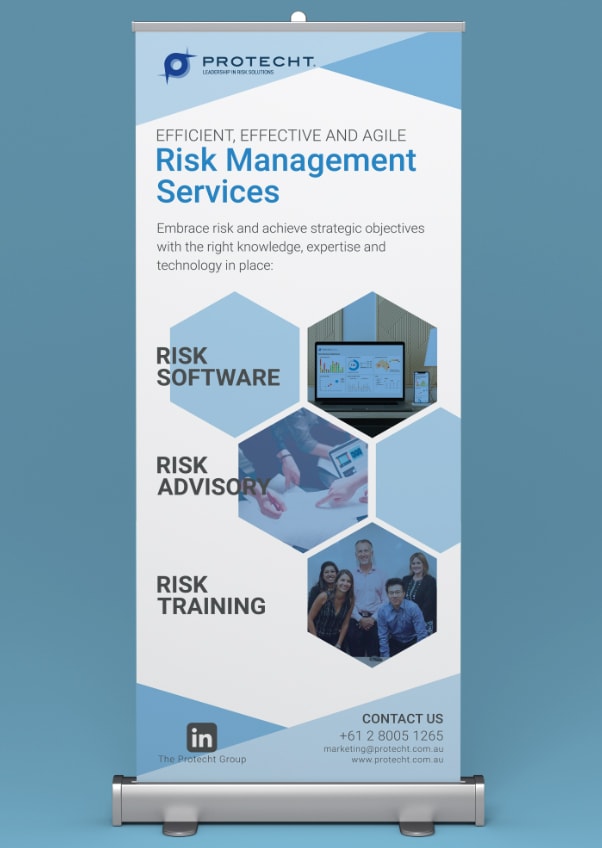 Designing the presentation folder
In preparation for conference season, the business also asked me to come up with a new design for the presentation folders which will be handed out to booth visitors.
The brief called for a clean and modern design for the front, back and inner side and bottom flaps. The team also requested some design variations that focused on either the key message only or both the message and images of the system.
To help with brand recall, the back cover design featured the same images seen on the pull-up banners.
Ultimately, the team decided to go with the system dashboard across multiple devices on the cover, as it gives the sales team a conversation starter during the exhibit.
Here's the final design after a few adjustments based on the feedback I received:
Be conference-ready!
Let's chat about how I can help you give your brochures a much-needed facelift before your next event.
---
All designs were created in Adobe Illustrator and provided to the client and the printer in a print-ready format, along with all raw images and assets.